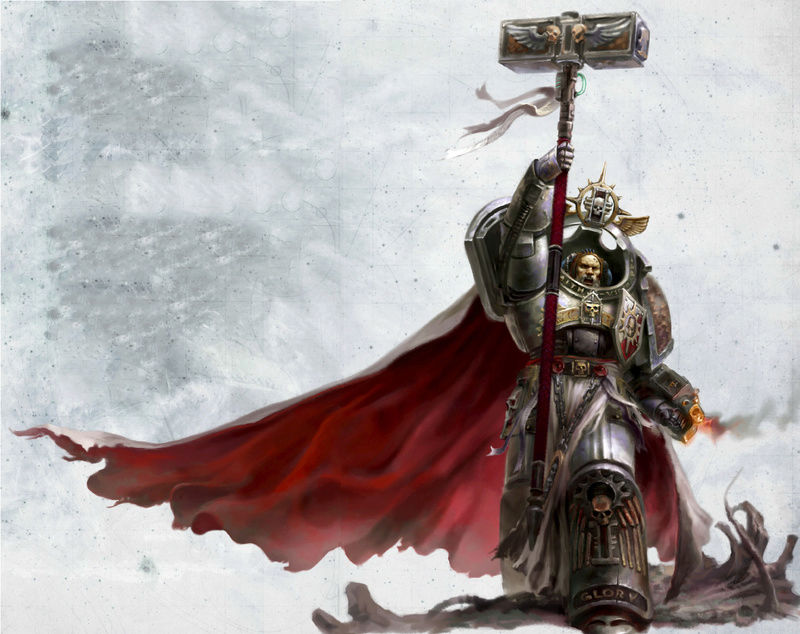 Aldrik Voldus, Warden of the Librarius, wields more psychic might than any Grey Knight seen in centuries. The very air crackles around as he focuses his mind and bends the colossal energies of the warp to his will. With a word, purifying flames pour forth from the head of his ornate Nemesis Daemon hammer – the Malleus Argyrum – turning Chaos-tainted flesh bone and armour into pillars of ash. Heretic war engines halt as their twisted machine spirits are rent from their chassis. In Voldus' grip reality constricts, and the helms of his enemies are crushed by invisible force; just as easily can Voldus sharpen the minds of his fellow Grey Knights, allowing them to channel their reserves into strikes that can bring low all but the largest of Daemons. (GW.2017)
Has anyone picked up this fine fellow?
He looks pretty bad ass, and the 3rd Brother hood is no joke.
IMHO he needs to be wearing his helmet, but outside of that... I don't think I would change much else.
Well done GW!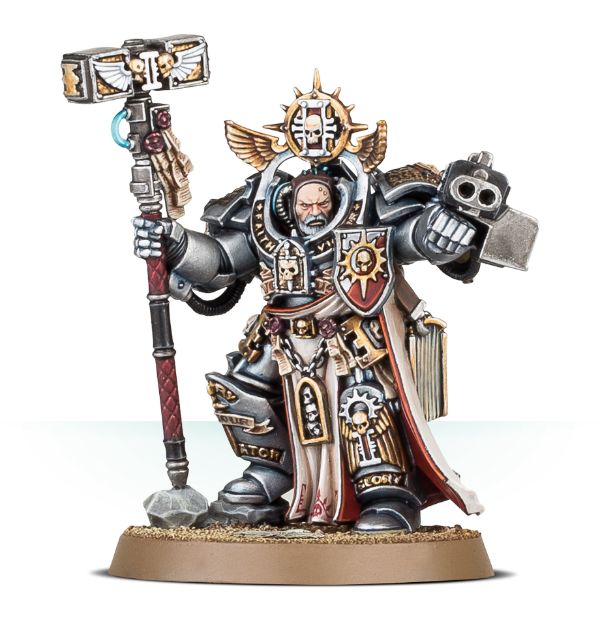 _________________
+++"There is nothing in the arcane and blasphemous arsenal of the forces of Chaos that can compare to faith. With the power of faith, our weapons become shining instruments of deliverance that can cleave the mightiest daemon in twain. With the power of faith, our minds appear as slivers of pure agony to the daemon, driving into the wretched forms of those who would dare stand before us. With the power of faith, our words become commands that cause the daemon to cower and cringe in terror. I could meet my enemies unarmed without a shred of fear in my chest, for I know that the Emperor watches over me and guides my hand. So let them come. We shall show them what the power of faith can do."+++ (Brother Captain Stern)
Adeptus Moderatus





Number of posts

: 5818


Age

: 44


Location

: The British Columbia Sector


Army

: Grand Master Mordrak's Brotherhood, Deathwing...Pretty much any first company! I LOVE terminators!!!


Registration date :

2008-05-26

Grey knight
stats:


I don't approve of GW moving on with the story, I still like this model. I also agree he needs to wear his helmet. Frankly the helmets are an iconic part of the grey knights.


I wish they would make some more vehicles for the grey knights.
Grey Knight





Number of posts

: 376


Age

: 26


Army

: Grey Knights(growing and current)/Imperial Guard(retired)/Dwarfs(retired)/Lizardmen(Collection purposes)


Registration date :

2014-03-04

Grey knight
stats:


He is definitely a great HQ choice for the points. Great force multiplier for a GK army considering he knows almost all the psychic powers available to him.

_________________
"Though we face the power of hell, and death is at our side, we fear not, for the Emperor is with us through it all. If we live, we live for the Emperor. If we die, we die for the Emperor. So whether we live or die, we are the Emperor's. We are Grey Knights and this is why we came to be." --Grandmaster Rivan

"It is said that if you know your enemies and know yourself, you will not be imperiled in a hundred battles; if you do not know your enemies but do know yourself, you will win one and lose one; if you do not know your enemies nor yourself, you will be imperiled in every single battle." --Sun Tzu (from ancient Earth)
Adeptus Moderatus





Number of posts

: 4404


Age

: 50


Location

: Currently on Titan


Army

: Grey Knights 7th Brotherhood, Salamanders


Registration date :

2009-03-05

Grey knight
stats:


And he can cast 3 of them every of our turns and even more badass : he can dispell 3 enemy's powers in their turn !!


I think that only Magnus can do better !

Aubec


_________________
la fuite n'est pas une option !
Adeptus Moderatus





Number of posts

: 3740


Age

: 50


Location

: France


Army

: 40K : GK (curious isn't it ;-) ) WHB : Dwarfs, Ogres, Mercs


Registration date :

2009-11-01

Grey knight
stats:



---
Permissions in this forum:
You
cannot
reply to topics in this forum