Greetings from the staff of the grey knights forum!
http://i43.servimg.com/u/f43/11/63/50/93/grey_k10.png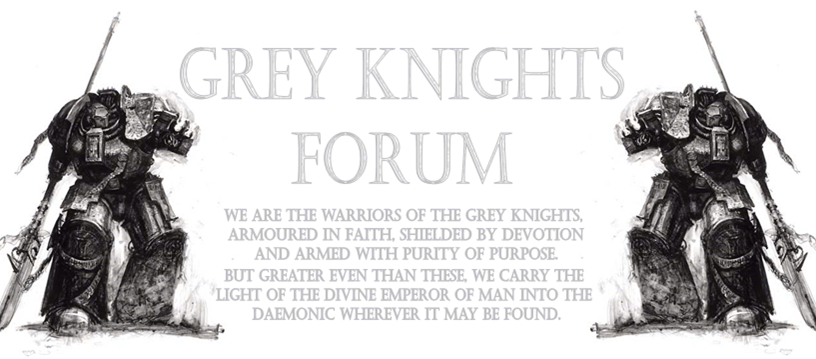 It is time for the forum wide spring update and feature list!
Since it is important to keep up with the times, the grey knights forum staff has decided to add a few simple additions to improve the site functionality and enjoyment.
So here are a few of the impressive new features.
* Added Instagram support.
Now your account will be fully synced with instagram! Letting all of your friends know what content you are adding on the site. Not to mention the addition of filters on the posts as well.
Never before have your grey knights looked so good as with the gloss filter, adding a literal sheen to your models which will make everyone here and over the entire web envious of your skills.
* Now you can buy Grey knights forum merchandize!
Designed by none other than renowned designer Jonathan Berkley, a studio and international designer giant, who makes the best products available to you at reasonable prizes.
Now you can wear T-shirts, mugs and key-rings with the famous grey knights forum style and logo.
You can even get custom model insignias and transfer sheets!
* And the biggest one yet. Full integrated VR support!
Experience the forum like never before in full virtual reality, instead of boring typing on a keyboard you can write your messages via hand signals, or leave a virtual painted rock at your buddies home page.
For more integrated and deep relations between users. You can even paint your models in VR and have battles on the fly in our customizable arena.
For more information, press the link above.
* Added and removed major bugs.
We fixed problems that were plaguing the community, by integrating Google Hammer™ which smashes those pesky bugs before you can even see them.
No more will the computer be riddled with filthy bugs, let the hammer hit them!
Which is even more appropriate seeing we are the hammer of the emperor!

These major updates and numerous smaller ones are now upon us in the new and improved grey knights forum experience.
So log on and experience the changes first hand for yourself.
Sincerely, the grey knights forum staff.™
Adeptus Administratum





Number of posts

: 4281


Age

: 29


Location

: -Data lost-


Army

: Think positive, it will soon get worse. (Mechanicus)


Registration date :

2007-12-21

Grey knight
stats:


Can we add the Yahoo brush, it's great to dust old posts.
Grey Knight





Number of posts

: 363


Age

: 43


Location

: Decent World (IN)... close to Ferentino (It)


Army

: Gray Knights, Orks, Biel-Tan and the Court of the Young King, plus High Elves for Fantasy fans...


Registration date :

2008-10-08

Grey knight
stats:


The Yahoo brush can probably easily be added to brush old posts like new.


Adeptus Administratum





Number of posts

: 4281


Age

: 29


Location

: -Data lost-


Army

: Think positive, it will soon get worse. (Mechanicus)


Registration date :

2007-12-21

Grey knight
stats:



---
Permissions in this forum:
You
cannot
reply to topics in this forum