Hi guys,
Today i played my first battles with Grey Knights. I asked my GW store guy for a match and he faound one. He played Space Wolfs.
We played 2 matches 750 points.
He had:
some kind of a captain 2 LP , with a frost sword or smthg (+1 strenght)
2 10 man squads with plasmagun, plasmapistol, flamer and a guy with energy sword.
one 5 man longfang squad with 2 rocketlaunchers, a lascannon and a Multimelter (also one guy for a special rule to shoot 2 targets)
I had:
IOM termi + psicannon + psimastery1 +sword
5 man termi squad with psicannon, 3 halberds, hammer 1 sword
5 GKSS psicannon, hammer + RB psibolt ammo
1 Psifelmen dread
2 Paladins (1 hammer , 1 sword; only left models i had)

I dont think he had a very good list, but he didnt know that i was playing GK . dunno if this is good for anything.
First game was normal deployment (dont have the exact names in english here

) and killpoints mission.
I deployed first. He didnt steal the initiative.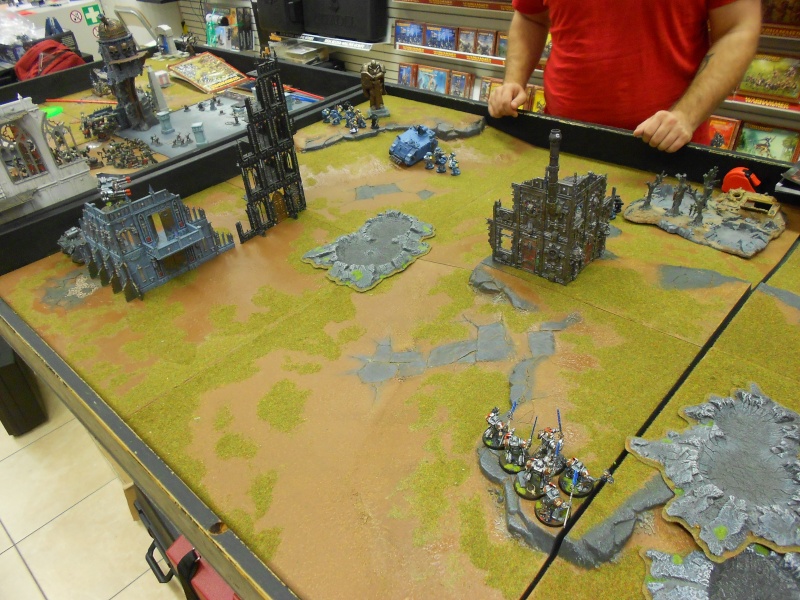 I put my dread on top of the building which was a mistake cause he didnt get cover over there.

Termies with IOM going on the right flank while my Rb with GKSS was on the far left.
He deployed one 10 man squad with captain on th right behind the building. Rest went on the left. Longfangs were in the middle without cover.
Turn1:
i moved up with everything except the dread. GKSS got out of the RB to shoot the 10 man squad. Placed only 2 guys behind the RB.

no cover.
I shot at his longfangs with my dread. Killed none. My SS was able to kill 2 guys. FIRST BLOOD

He shot nearly the whole game at my Dread with his longfangs. Captain squad moved up. Squad on the left also moved so had no 12" to my SS.
Turn2: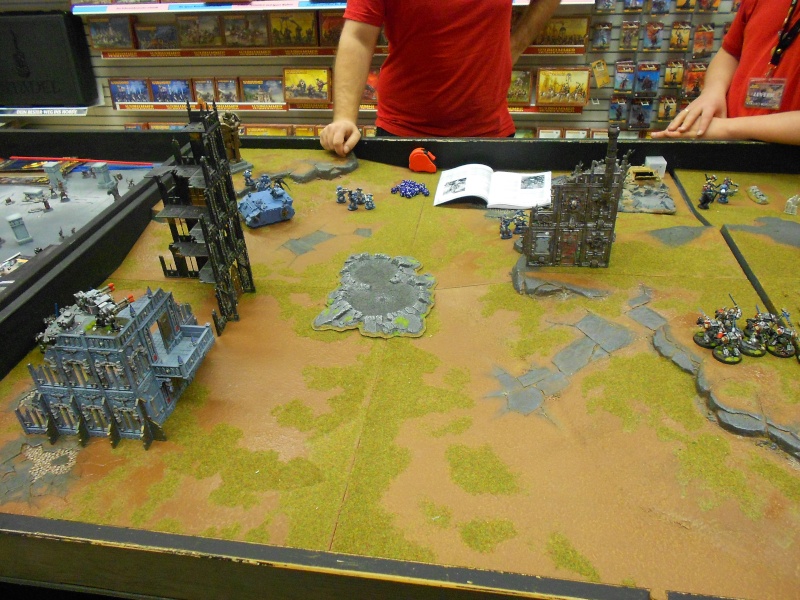 I stayed back on the right cause i wont give him a full shooting phase on my terminators. Dread killed one Fang. Fangs shacked him but he passed his test.
GKSS were able to force the marines back due to amoral check. he moved them behind his RB.
Turn 3: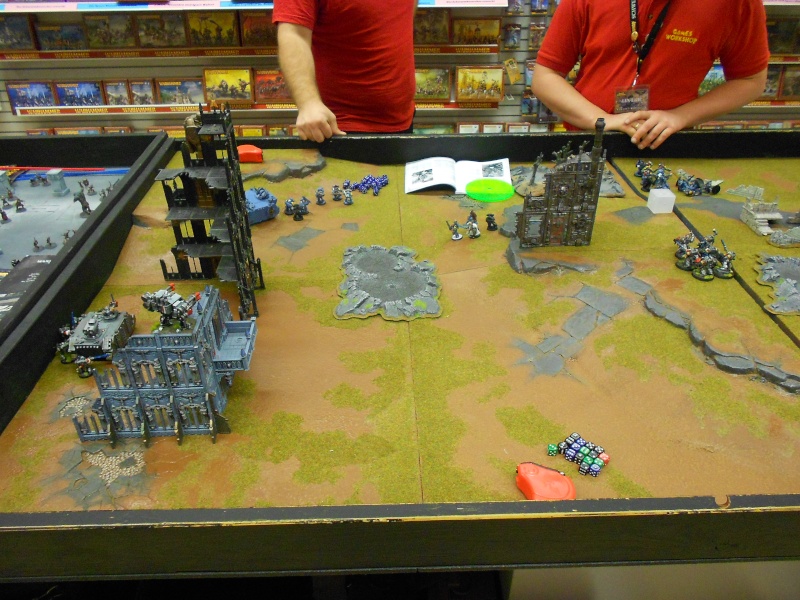 This turn my Paladins came in and they had to deploy in the crater in midfield... . one paladin lost one point cause of that. I shot inferno into the squad on the right. Killed think 3 guys.
Termies moved up and also killed some of the same squad. On the right i shoot at his squad and killed another 2. Dread was able to kill another fang.
His turn he immoblized my dread, killed one SS with his RB. Then everything elso shot at my paladins. All died.

Turn4: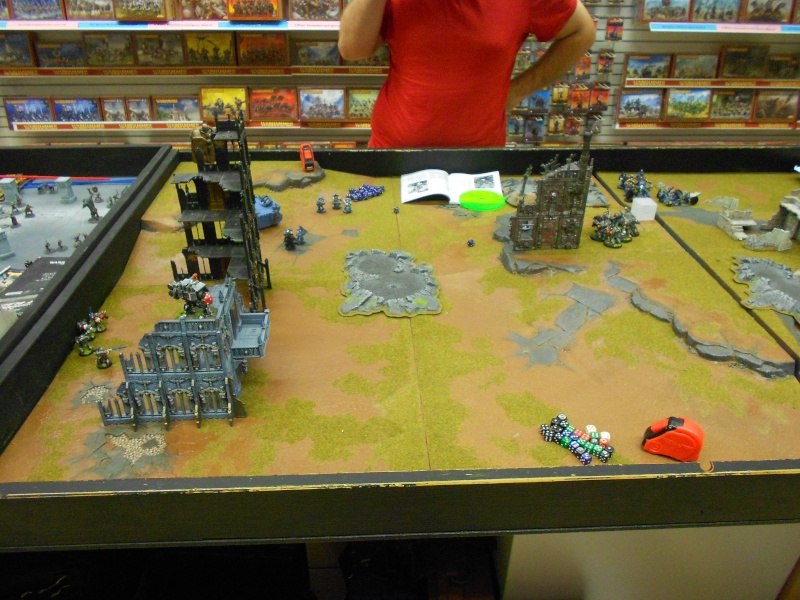 i moved my Rb between the big ruins on the left to shoot at midfield out of cover. SS stayed to shoot 4 shots into his RB. My Paladins moved up.
My dread failed to kill a Fang. Psicannon shook the RB.
He moved his right squad into the ruins on the right (dunno why). again shot at my dread and destroyed a weapon.
Turn5:
i moved my Rb to shoot at his Fangs. SS moved up to shoot at his Rb again. Terminators walked around the building shot at his Captainsquad and then finished them in CC.
Psicannon destroyed his weapons on the RB.
He shot at my Terminators and my dread. Also his Lascannon shot at my Rb but i make my coversave.
Turn6: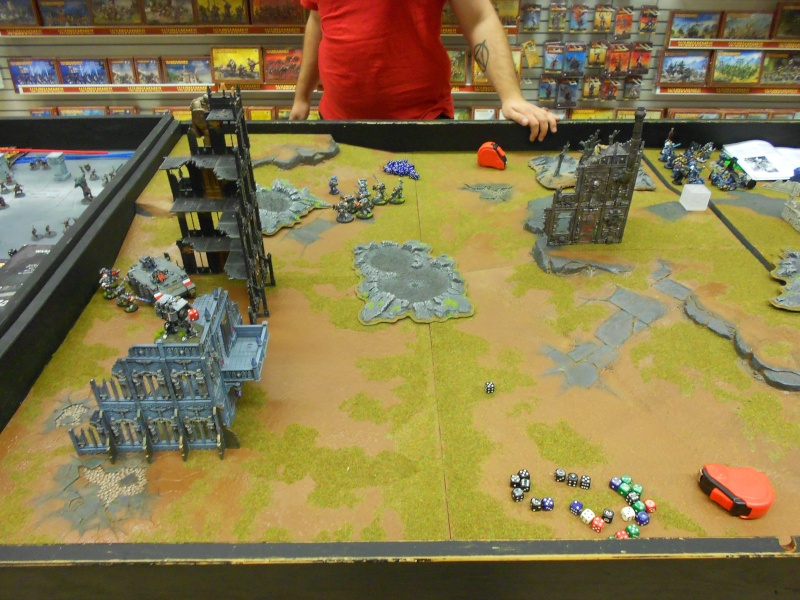 Well this was the last round. I moved my Terminators up and killed the rest ob his normal squad. Wrecked his RB with my psicannon. He shot with his remaining 2 guys on my Dread and destroyed his other arm.
My RB makes cover again!

Dice shows 2. Game ends.

Grey Knights: 4 ; Space Wolfs: 1
I made a lot of mistakes but he made a lot more i think.

He saw that i split my army and instead of taking my left flank with full force , he splits his army too...

well but first game, first win.

bit disappointed tho.
Things i learned:
Psicannons rock! (Shooting with 2 psicannons and 4 stormbolters on the move is nice)
Put dread in cover! (was lucky that he survived that shooting)
Dont split your force so much at 750p annhilation

Learn to deepstrike

(Paladins was a bit of a point filler but 2 Paladins in sight of everything is bad)
I m out of time now. Next game follows soon! (Next game was closer and better

)
Stay tuned!
Newt.
Last edited by Newtpow on Thu Mar 29, 2012 11:13 pm; edited 1 time in total
Second game:
Same Lists
Now we had "capture and control"?! The mode with 2+W3 objectives. We rolled 4 objektives.
deployment was spearhead.
He deployed first and i thought i was fucked... :

Objectives were on the left at the wrecked rhino. in the building midfield, in the ruin on the top right. Last one was at the statue.
He deployed right back quarter. He placed his fangs on top of the building. His captainsquad nearby. His other squad with RB at the statue.
I thought "WTF". I couldnt get cover from his heavys except behind the ruin midfield (where i placed my RB.) Everything else would be in the open.
So i decided to try a full charge. I deployed everything else open field on the edge of my deployment zone to move at his right objective.
Turn1: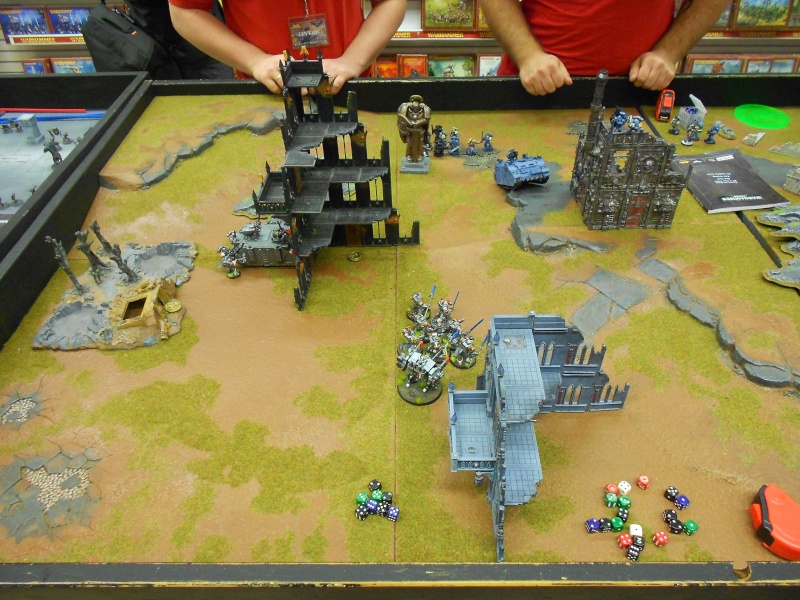 He moved his Captainsquad into the ruins on the objective. His other squad moved a little bit forward. His Rb moved to shoot my Termie blob.
First shooting he killed one of my paladins.
I moved everything forward to close the gap. i placed my RB at the edge of the building in cover to shoot his other squad. GKSS got out and this time i placed 3 behind so coversave!!

I shoot everything at his fangs and killed i think 2-3 guys. SS killed only 1 or 2.
Turn2: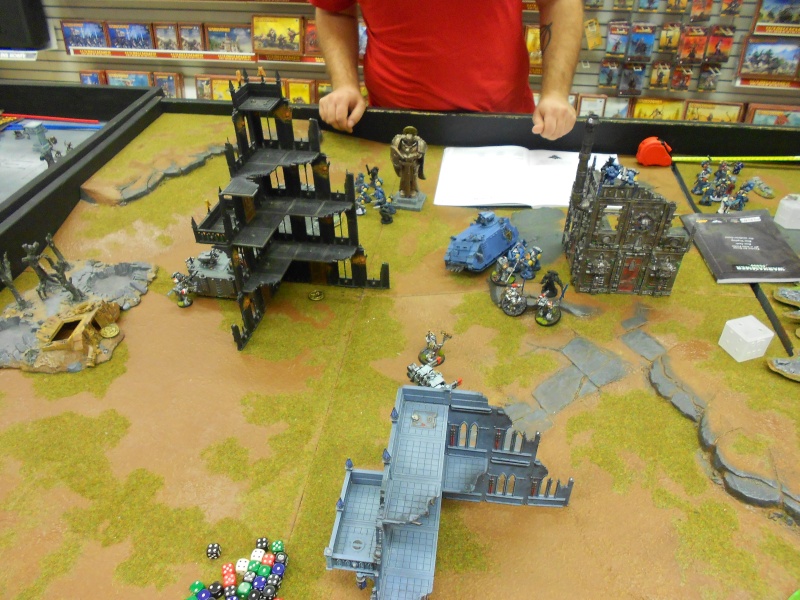 He moved everything up. His Captainsquad moved through the ruins to shoot at me. Rb moved up. His other squad also moved up to shoot my SS.
He was able to kill 3 terminators and 1 SS marine.
I also moved and shot with my 4 remaining Terminators into his squad. Captain lost a wound and i killed 4-5 other guys. on the left i managed to kill 1-2 guys with SS and RB.
Then i charged my 2 Terminators and my inquisitor into his Captain with squad. Managed to kill his captain and win the fight. Sadly he made his moral test.
Turn3:
(fogot to take a pic here)

Well i fought the Rest of his Captainsquad. He lost every round and didnt pass moral after my CC phase. I wiped him. And got close to the ruin on the right.
My GKSS and my Paladin shoot his left squad and charged in. This fight raged to the 6th round. I lost 3 more SS marines till turn 6.
Turn4: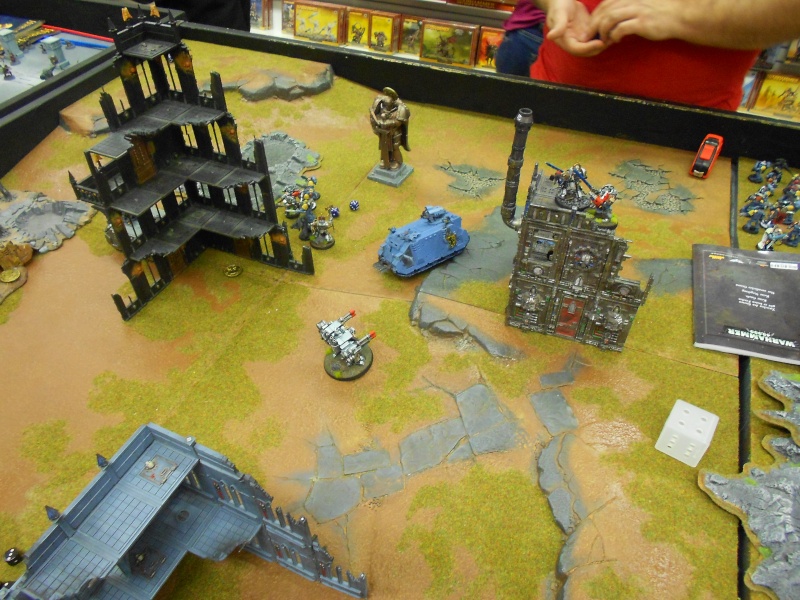 I charged into the ruin to kill the remaining longfangs (who shot my dread the whole game, forgot to mention that

).
Fight on the left continued.
Turn 5:
still fighting on the left.
Dread was bale to wreck his RB.
Turn6:
Dread charged into the CC to help wiping his last Marines.
Had 1 objective (ruins right) but that wasnt neccessary anymore

Grey Knight win after total annihilation

Again he played not that good but i played very risky. Could ve turned out bad for me too.
We both had average luck. And again midrange shooting turned out very well

But this game we had more CC.
I actually never forgot to cast Hammerhand or use my special rules

YAY!
Give me comments!

Newt.
Awesome first 2 games with your GKs! Congrats!
I think you pretty much already recognized some of the mistakes you made but that's how we learn--from experience

Continue vanquishing the enemy!

_________________
"Though we face the power of hell, and death is at our side, we fear not, for the Emperor is with us through it all. If we live, we live for the Emperor. If we die, we die for the Emperor. So whether we live or die, we are the Emperor's. We are Grey Knights and this is why we came to be." --Grandmaster Rivan

"It is said that if you know your enemies and know yourself, you will not be imperiled in a hundred battles; if you do not know your enemies but do know yourself, you will win one and lose one; if you do not know your enemies nor yourself, you will be imperiled in every single battle." --Sun Tzu (from ancient Earth)
Adeptus Moderatus





Number of posts

: 4400


Age

: 49


Location

: Currently on Titan


Army

: Grey Knights 7th Brotherhood, Salamanders


Registration date :

2009-03-05

Grey knight
stats:


congrats for the win ... against a cheesy army : the SW !

i think you debriefed your battles very well ... just try to use cover a little more (could help you sometimes, against IG or Tau, for instance)
Aubec


_________________
la fuite n'est pas une option !
Adeptus Moderatus





Number of posts

: 3731


Age

: 49


Location

: France


Army

: 40K : GK (curious isn't it ;-) ) WHB : Dwarfs, Ogres, Mercs


Registration date :

2009-11-01

Grey knight
stats:


Great job! Congratulations!
I think between yourself, Brother Rivan and Aubec Le Noir, the constructive comments have been covered.
Now go kick some more butt!


_________________
+++"There is nothing in the arcane and blasphemous arsenal of the forces of Chaos that can compare to faith. With the power of faith, our weapons become shining instruments of deliverance that can cleave the mightiest daemon in twain. With the power of faith, our minds appear as slivers of pure agony to the daemon, driving into the wretched forms of those who would dare stand before us. With the power of faith, our words become commands that cause the daemon to cower and cringe in terror. I could meet my enemies unarmed without a shred of fear in my chest, for I know that the Emperor watches over me and guides my hand. So let them come. We shall show them what the power of faith can do."+++ (Brother Captain Stern)
Adeptus Moderatus





Number of posts

: 5816


Age

: 43


Location

: The British Columbia Sector


Army

: Grand Master Mordrak's Brotherhood, Deathwing...Pretty much any first company! I LOVE terminators!!!


Registration date :

2008-05-26

Grey knight
stats:


Hi guys,
So yesterday i had another game against a guy from my new gaming club. I forgot to take pics so i ll post it here. Its gonna be short.
I played gainst Orcs (which i never did before) 1500 points. I just took everything i had and put it in a list.

I had:
GM with warding stave, psicannon, all 3 grenades
5 Terminators
5 GKSS with RB
Dreadknight with sword, inci and teleporter
Ven. psifelmen Dread
SR with Lascannon and MM
5 GKIS
the squads equipt normally (hammer+psicannon)
He had:
2 buggy thingies with orcs (dont ask me which one exactly). In one he got boss's (dunno if that is the english name

)
He got one Tank with his chief HQ + boys
3 Dreadnought like bots
1 copter
1 large mob of normal orcs
1 squad of grots
thats should be it...
We had seize ground with normal (12") deployment. i deployed first and took the Dreadknight with the GKSS near my objective. Dread on a hill on the middle right.
My SR on the right flank and the GKIS next to them.
Again i split my troops to far. But i thought with the SR and my IS distance shouldnt be a problem.
He deployed from left to right spreaded.
He stole initative and imobilised my RB, Dread and SR first turn...

That srewed everything up for me cause i now had only my shunt to get his objective and with a wall of orcs running to me i had no way to get really around.
As it turned out orcs are f... fast. I shot his 2 buggys and 2 bots first turn but he allready passed most of the table.
Another problem was his tank, which had AV 14 front ans 12 at the side. I had nothing on the right flank to kill this thing except my dreadknight. But closecombat with his HQ squad after would be sure death.

so i decimated his other squads. Due to big mistake his boss squad charged my IS and killed them before my GM+trminators finished them in one turn.
Beside from that i killed many orcs and his copter.
Midgame his big normal orc squad charged my Dreadknight and killed him first CC turn.

I shouldnt let him stay around. I just was not sure to jump behind his lines. Should ve done that with both shunts...

His remaining bot + same orc squad then got to CC with my GM+Terminators. This fight pissed me of cause i just hadnt enough attacks to kill his orcs. GM was only in contact with the bot and couldnt hurt him (he didnt really accept the stacking hammerhand)
So his orcs with this huge amount of attacks battled my termis...

Well i hate orc CC now... They ran away soon but my terminators were on 1 man down...
Right flank his tank with a huge Deathroll infront hunted my SS. I went back to shot some more but hadnt enough manpower to fight him. He wiped them off 5th turn.
At the end he had only his HQ+squad (my imobilized SR shot his Tank last turn

) + one bot. Ah and his objective was taken by his grots.
I had my GM, immobilized SR, immobilized Dread.
But lost to objectives. 1 - 0

Well i learned alot.
I need more manpower to shoot orcs down.
I didnt really needed cover this game (except for my vehicles first turn

) so i thought i will make closer firelines next game.
Stay together if u re outnumbered.
Pick more things gainst AV14 on this point level.
GM+normal terminators cant handle everything in CC

. I overrated my termies.
Some of you have some more tipps gainst orcs?

What would you add to the list and what is crap? I thought the dread with 260 points is way too expensive to what he brings to the battle

Newt.
i see you learned a lot !!
One thing though ... never, ever let an ork horde charge you ... ever ! try to out maneuver them to charge ! i know that's easier to say than to do !


against orks you may want to try Purifiers ... they are our best weapon against hordes !

Aubec


_________________
la fuite n'est pas une option !
Adeptus Moderatus





Number of posts

: 3731


Age

: 49


Location

: France


Army

: 40K : GK (curious isn't it ;-) ) WHB : Dwarfs, Ogres, Mercs


Registration date :

2009-11-01

Grey knight
stats:


Well he has 4 attacks on charge... But he has 3 attacks otherwise. Thats enough.

With purifiers with extra attack + flame i agree but in this game i dont think it would ve made a difference.
Dont let an orc charge you! funny. What can u do gainst buggys (open top) + Waagh thingie? dont know exactly but he has around 18 " charge distance?! or more?
And GK dont have sacrifice units to take the charge.
How you do that then?

But i didnt lose that badly. With less tactical mistakes i could ve won this (especially without his luck on the dice

).
So dont think i complain about op orcs

I m just corious what to do gainst that huge charge range/ CC orcs?!

---
Permissions in this forum:
You
cannot
reply to topics in this forum