Played a friendly game last Monday vs. a 2000pt Sisters army. This was the first time I would get to play a SoB army after they had their remake so I was pretty excited.
His list (from what I can remember):
Canonness w/ inferno pistol and eviscerator
Uriah Jacobus
5 Command squad: 2 multi-meltas, a standard, 2 bolters; immolator w/ TWL heavy flamer
9 henchmen warband (3 DCAs, 4 arco flagellants, 2 crusaders); rhino
10 Battle sisters (1 melta, standard/symbol, superior had PW and plasma pistol); rhino
10 Battle sisters (same); rhino
10 Battle sisters (same); rhino
10 Seraphim (2 w/ hand flamers; superior has eviscerator)
5 Dominion sisters (2 meltas, 2 flamers); immolator w/ TWL MM
Exorcist tank
Exorcist tank
My list:
GM w/ staff, incinerator, rad, blind, psychostroke
5 Purifiers (1 incinerator, 3 halberds, 1 hammer); RB w/ TWLLC
10 GKSS (2 psycannons, 1 hammer, psybolts); RB w/ TWLLC
7 GKT (1 psycannon/halberd, banner, 1 warding staff, 2 hammers, 2 halberds)
10 GKIS (1 psycannon, 1 incinerator, 1 hammer, psybolts)
LRC w/ MM
Psyfleman dread
Psyfleman dread
Mission: Seize ground (5 objectives)
Deployment: Spearhead
I win the roll off and gave him first turn. I roll for GStrategy and get a 1 so I make the GKIS scoring.
His deployment: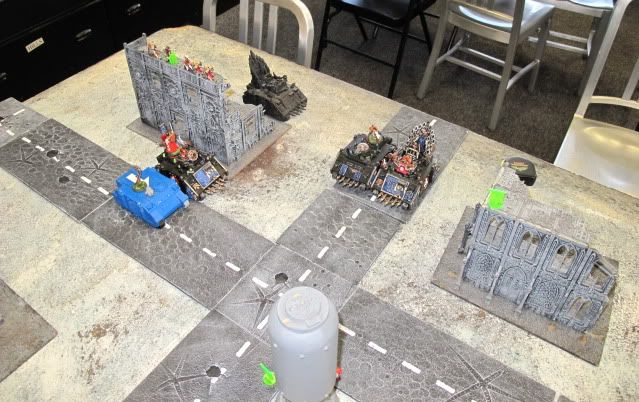 My deployment:
I'm not going to do a turn by turn. Suffice it to say that the game went pretty much according to plan (mine that is

). The only thing that really annoyed me was my poorer than poor dice rolls. For my first 3 psychic tests, I rolled 3 snake eyes! I lose the GKSS justicar as well as a random GK (since I split them up) and self-glance one of my dreads

When his 10 seraphims opened up on my GKT w/ bolt pistols and hand flamers in 1 turn of shooting, I lost 4! I remember against my game vs. BT, I took 40 wounds and only lost 1 GKT. I guess the law of averages caught up with me. Thankfully, my rolls got a little better towards the end game. Some observations:
-I think the SOB got nerfed big time. The 4+ rolls to activate acts of faith is very iffy (even w/ modifiers).
-The cool thing is, all units have a 6++. That also rather annoyed me since my opponent was making a lot of them.
-I think it is quite challenging for SOB to be competitive especially vs. the newer codices. They just can't employ as much shooting as a shooty army like IG or Tau. And they're not really that tough in CC either.
-I really love Interceptors

The game lasted 7 turns and this was the final lay out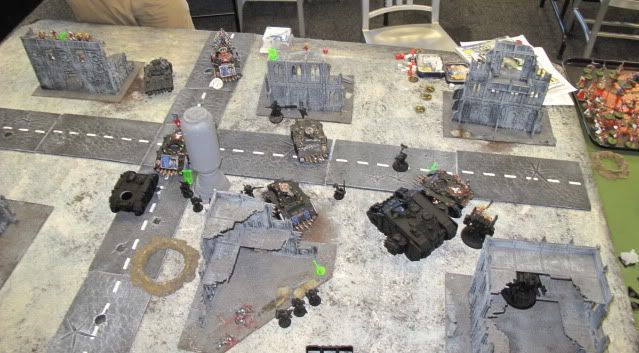 Grey Knights: 3 SOB: 1

_________________
"Though we face the power of hell, and death is at our side, we fear not, for the Emperor is with us through it all. If we live, we live for the Emperor. If we die, we die for the Emperor. So whether we live or die, we are the Emperor's. We are Grey Knights and this is why we came to be." --Grandmaster Rivan

"It is said that if you know your enemies and know yourself, you will not be imperiled in a hundred battles; if you do not know your enemies but do know yourself, you will win one and lose one; if you do not know your enemies nor yourself, you will be imperiled in every single battle." --Sun Tzu (from ancient Earth)
Adeptus Moderatus





Number of posts

: 4389


Age

: 48


Location

: Currently on Titan


Army

: Grey Knights 7th Brotherhood, Salamanders


Registration date :

2009-03-05

Grey knight
stats:


The new SoB codex if you can call it that was really a massive nerf.
I love the fluff and the models for Sisters but honestly the new rules are a total joke and a massive step backwards for the army.

Grand Master





Number of posts

: 3279


Age

: 30


Location

: Sydney Australia


Army

: Retired Eldar, Puritan Grey Knights, Dark Eldar


Registration date :

2008-09-14

Grey knight
stats:


happy for your win Brother Rivan.
I agree for the nerf especially with the faith points : in the former codex you could adapt the "faith power" with the situation : get an invul, advantage in cc or in ws... now everything is gone ... so imho with the nerf the army had lost its style and specificity.
Aubec


_________________
la fuite n'est pas une option !
Adeptus Moderatus





Number of posts

: 3661


Age

: 47


Location

: France


Army

: 40K : GK (curious isn't it ;-) ) WHB : Dwarfs, Ogres, Mercs


Registration date :

2009-11-01

Grey knight
stats:


Congrats on the win Brother!
How times have changed, who would have thought that WE would now be in the "new codex" catagory, and playing weaker dexes. GW really doesn't seem to be able to get their act together and have everything up to par at the same time do they


_________________
+++"There is nothing in the arcane and blasphemous arsenal of the forces of Chaos that can compare to faith. With the power of faith, our weapons become shining instruments of deliverance that can cleave the mightiest daemon in twain. With the power of faith, our minds appear as slivers of pure agony to the daemon, driving into the wretched forms of those who would dare stand before us. With the power of faith, our words become commands that cause the daemon to cower and cringe in terror. I could meet my enemies unarmed without a shred of fear in my chest, for I know that the Emperor watches over me and guides my hand. So let them come. We shall show them what the power of faith can do."+++ (Brother Captain Stern)
Adeptus Moderatus





Number of posts

: 5793


Age

: 41


Location

: The British Columbia Sector


Army

: Grand Master Mordrak's Brotherhood, Deathwing...Pretty much any first company! I LOVE terminators!!!


Registration date :

2008-05-26

Grey knight
stats:


Congrats Rivan on the victory!
Stormtrooper





Number of posts

: 24


Age

: 30


Location

: Ontario, Canada


Army

: Grey Knights


Registration date :

2011-12-13

Grey knight
stats:



Similar topics
---
Permissions in this forum:
You
cannot
reply to topics in this forum